Introduction:
The portable repeater is developed with the latest technologies of COFDM modulation and MPEG-2 video compression. This equipment can realize wireless transmission with high definition video and stereo audio. Especially, in the urban and mountainous environments, the portable repeater is the ideal solution for the NLOS (non line-of-sight) transmission. Since its powerful function and it is easy to be carried and installed everywhere, the repeater has many application fields such as: Broadcasting, Military, Public Security, Forest Fire Prevention, Firefighting, Oil and Gas Industries, Traffic Police, Disaster Management, Railway.
Main
Features:
Inset high-performace amplifier
Lithium battery for power supply
Convenient to be carried and installed
COFDM modulation and MPEG-2 video compression
Great security by encryption of AES 128 bit/ALLTECH Basic Scrambling
Good transmission with high definition image and stereo audio
Adjustable working frequency, LCD board displays the working frequency
Firm aluminium enclosure with built-in cooling fans, waterproof and shockproof
Stable transmission in NLOS(non line-of-sight)and high speed mobile condition.
Transmission range can be up to 100km in LOS(line-of-sight)environment
Product Application
:
For the wireless transmission system, if there are high buildings and mountains between the first responder and the receiving center, the transmission quality is easy to be disturbed. We can use the portable repeater to relay the camera's output signals from the first responder to the commanding center.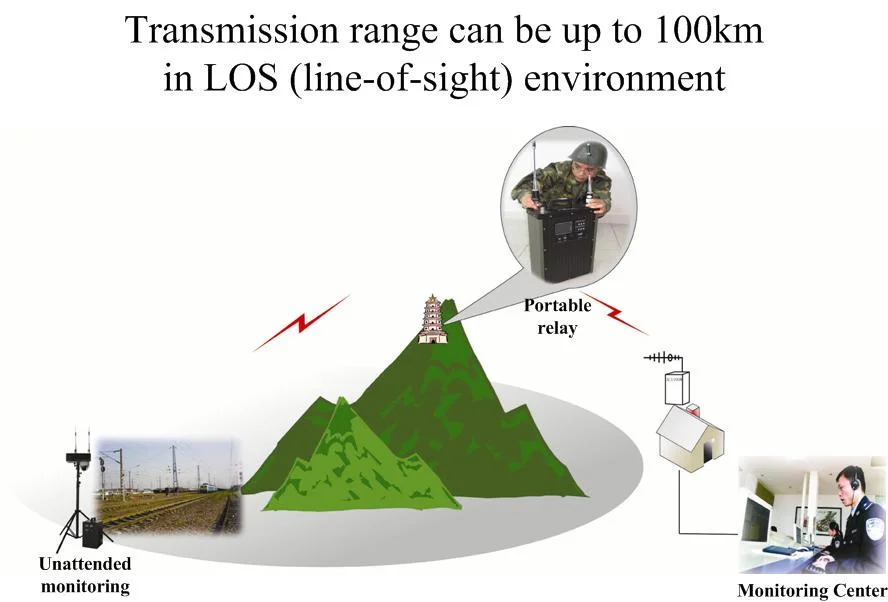 Repeater Specification: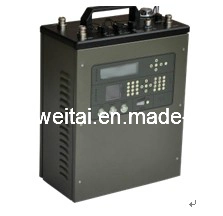 Rx Frequency

170MHz~860MHz

Rx Bandwidth

6/7/8

MHz, 2.5/1.25MHz

(

optional

)

Rx Setting Frequency

170MHz~860MHz

Rx Sensitivity

≤

-105dBm @ 1.25MHz;

≤

-94dBm @ 8MHz

Rx Default Frequency

300MHz~450MHz

Rx Voltage Output

DC12.5V±0.5V

Rx Current Output

400mA

(

MAX

)

Tx Frequency

550MHz~810MHz

Tx Bandwidth

6/7/8

MHz,2.5/1.25MHz

(

optional

)

Tx Setting range

560MHz~760MHz

Tx Default frequency

custom-made

Tx Power Output

27.5dBm~29.5dBm

Tx Flatness

≤

1dB @ 8MHz

Tx CNR

≥

28dB @ 27.5dBm power output

Second Harmonic

≤

-43dB

Encryption:

AES 128 bit / ALLTECH Basic scrambling

RS232 serial port for configuration

Battery

14.8VDC/32AH(6 hours continuous working time )

DC Input

DC12.5V~DC16.8V

Working Current

≤

3.5A

@DC12.5V

Dimension

360mm

*268mm*127mm

Weight

9.5 kg

(

including the battery

)
Rack Mount Receiver Series:
MV2025RJ7-A
Rack Mount Video Receiver with Duplex-audio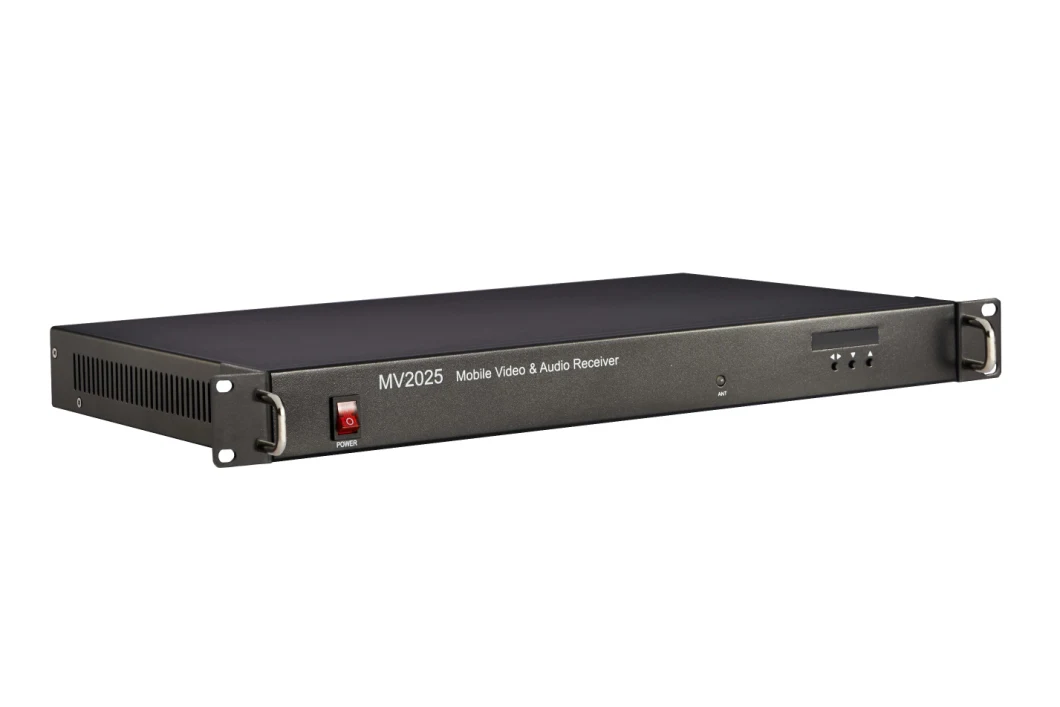 Functions & Features:
Working frequency directly display on panel

Power off memory

Data transmission

Receiver controlled by PC or display panel

Conference microphone input and MIC audio input

GFSK digital audio transmission modulation

Narrow audio transmission bandwidth and good channel utilization

Digital audio decoding, good voice quality and internal en/decryption

Audio frequency adjustable with 64 channels

Audio sent time controllable to reduce power consumption subject to situation

Audio sensitivity adjustable with useless noise shielding

A/V signal simultaneously output

One-channel video output with BNC connector and two-channel audio output

ABS decryption on received A/V signal
Specifications:
Power Supply

Working voltage V

AC220V±20V

Working current A

≤1.5A@DC12.5V (if audio transmission is off)




≤7A@DC12.5V (if audio transmission is on)

Video Receiving

Frequency receiving range

170~860MHz or user customized




Frequency bandwidth

6/7/8

MHz or 1.25/2.5MHz adjustable

Receiving sensitivity

-96dBm~-20dBm@8M/-106dBm~-20dBm@1.25M

Demodulation

COFDM

Video decoding

MPEG-2/MPEG-4 compatible

Decoding

AES/ALLTECH Basic Scrambling




Constellation

QPSK/16QAM @ 1.25/2.5MHz




QPSK/16QAM/64QAM @ 6/7/8MHz

FEC

1/3, 2/3

@ 1.25/2.5MHz




1/2, 2/3, 3/4, 5/6, 7/8

@ 6/7/8MHz

Carrier

2K

GUI

1/8, 1/16

@ 1.25/2.5MHz




1/4, 1/8, 1/16, 1/32

@ 6/7/8MHz

Video output level

1~1.2Vp-p@75Ω

Video output format

PAL/NTSC

Video white bar amplitude

650~720mV

Video synchronous amplitude

260~275mV

Video amplitude-frequency characteristic dB

0~4.8MHz

-0.5~1.5

5.5MHz

-4.0~1.5

Rx feed output voltage

DC10V~DC12V

Rx feed output current

800mA/CH (MAX)

Audio output

Left/right channel, stereo

RS232 control interface

Standard RS232 level, 9600, 8, N, 1

RS232 data interface

Standard RS232 level, support 1200~115200

Audio Transmission

Audio Tx frequency

470.5~479.950MHz, factory setting:

479.950MHz

Audio Tx power output

≥40dBm

Audio Tx modulation

GFSK

SHG

>62dBc

Frequency interval

150KHz

Audio decoding overall bitrate

4800bps

Audio sample

8KHz 16bit

Audio Tx delay

1~60 S

Audio input signal strength

320mVpp (MAX)

Environment

Working temperature

-25°C~55°C

Storage temperature

-40°C~70°C

Aapearance




Dimension

482mm×280mm×44mm (1U

case

)

Weight

4.8kg