Introduction:
The Digital Wireless Video Transmitter adopts the latest technologies of COFDM modulation and MPEG-2 image compression that enables good NLOS (Non line-of -sight) transmission with DVD quality video. The transmitter is compact size with power amplifier for longer-range transmission. This system has been widely used in many fields such as: Police Forces, First Responders, Security Services, Fire Services, Port Security, Homeland Security, Traffic Management, Police Technical Support Units, Special Forces, Military Command and Control Posts, Airport, Border Control, Major Incident Support.
Features:
COFDM modulation, Stable transmission
MPEG-2 video compression, DVD video quality
Lithium battery for power supply
Mobile and NLOS(Non line-of-sight) transmission
Great security by encryption of AES 128 bit/ALLTECH Basic Scrambling
Low system latency
Modular design, compact structure, small cubage
Several wavebands available: VHF/L/ S
Strong casing with built-in cooling plates, waterproof and shockproof
In LOS (line-of-sight)environment, the transmission range is up to 80km
Product Application
The Digital Wireless Video Transmission system is the ideal solution for first responders or military personnel entering hazardous environments. The first responder can carry the equipment on the back to enter accident ground and then the transmitter send the camera's digital, compressed signals to the commanding center.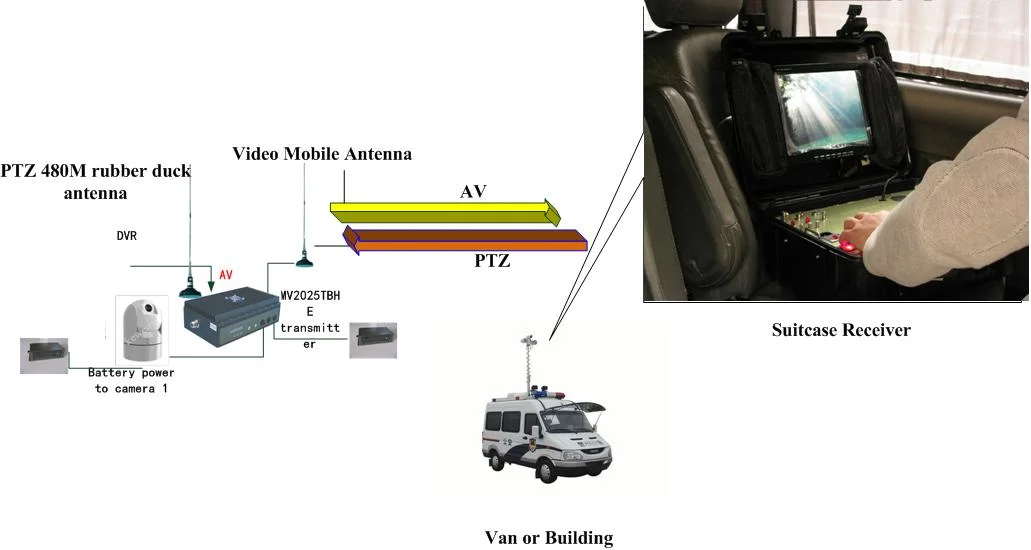 MV2025TBHE-AG Manpack Mobile Video Transmitter with Duplex-audio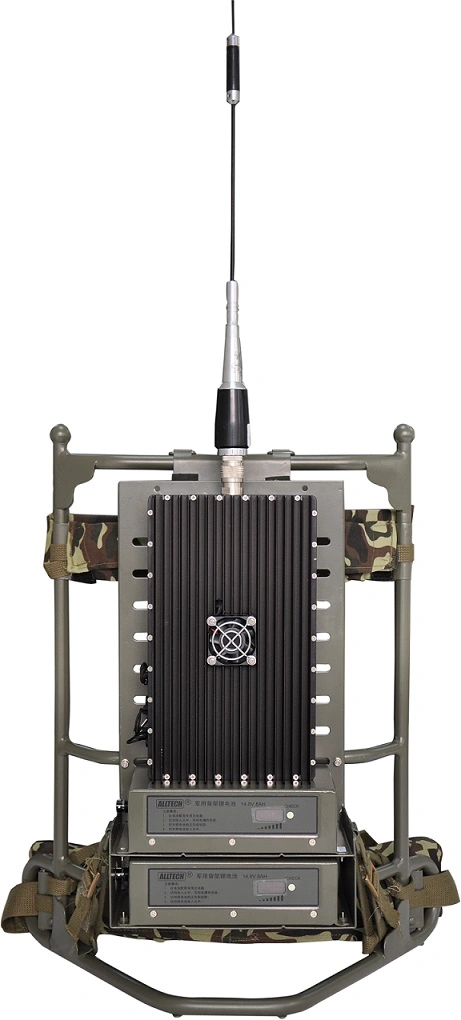 Functions & Features:
Super low latency

ABS/AES encryption

Duplex-audio communication and GPS functions

Working frequency adjustable within specified range

Built-in high performance power amplifier

Audio and video signal simultaneously input

One-channel video input

Left/right channel audio and unbalanced stereo input

1.25/2.5/6/7/8MHz multiple bandwidth output

Transmitter power output adjustable

GFSK digital audio modulation, good voice quality with internal en/decryption

Audio frequency adjustable within built-in 64 channels and 24 addresses

Fully-enclosed waterproof case, dustproof and good impact resistance
Specifications:
Power Supply

Workinh voltage V

DC12V~DC16V

Working current A

≤2.8A@DC12.5V

Video Transmission

Frequency output range

300MHz~450MHz,560~760MHz or user customized

RF bandwidth MHz

1.25/2.5MHz or 6/7/8MHz

Power output

21~36dBm power output adjustable with 1dB step

C/N

≥28dB@32dBm

SHG

>52dBc

Encryption

AES/ALLTECH Basic scrambling

Modulation

COFDM

Constellation

QPSK/16QAM @ 1.25/2.5MHz




QPSK/16QAM/64QAM @ 6/7/8MHz

FEC

1/3, 2/3

@ 1.25/2.5MHz




1/2, 2/3, 3/4, 5/6, 7/8

@ 6/7/8MHz

Carrier

2K

GUI

1/4, 1/8, 1/16, 1/32 optional

Video encoding

MPEG-2/MPEG-4

Video input level

1~1.2Vp-p@75Ω

Video input format

PAL/NTSC

Video resolution

720x576(PAL) 720x480(NTSC)

Video white bar amplitude mV

650~720mV

Video synchronous amplitude mV

260~275mV

Video amplitude-frequency characteristic dB

0~4.8MHz

-0.5~1.5

5.5MHz

-4.0~1.5

Audio input

Left/right channel, stereo

RS232 control interface

Standard RS232 level, 9600, 8, N,1

RS232 data interface

Standard RS232 level, support 1200~115200

Delay

60ms

Audio Receiving

Audio Rx frequency range

470.05~479.950MHz, factory setting: 479.950MHz

Audio Rx sensitivity

≤-111dBm

Audio Tx modulation

GFSK

Frequency step

150KHz

audio decoding bitrate

4800bps

Audio output

2.1Vp (open circuit output)

GPS Receiving

Signal Receiving

L1

(

1575.42MHz

)

, C/A code

Communication protocol

NMEA0183

Sensitivity

-165dBm

Data baudrate

9600bps

Data refresh rate

1Hz

GPS protocol

NMEA0183-4800bps

Environment




Protect standard

IP66, dustproof and rainproof

Working temperature

-25°C~55°C

Storage temperature

-40°C~70°C

Appearance

Dimension

238mm×155mm×78mm

Weight

2.5Kg (without frame carrier and battery)
MV2025RH7-JKYZ Portable Suitcase Video Receiver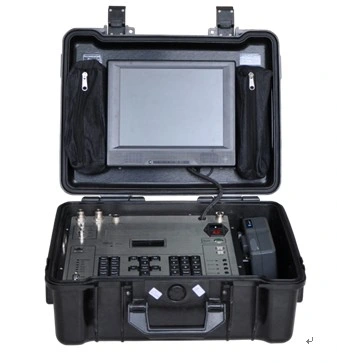 Functions & Features:
MPEG-2/MP@ML/4:2:0 DVD decoding standard

Receiver internal parameters configurable

Auto front error correction

Frequency continuously adjustable

Power off memory

Standard definition image and hi-fi stereo output

Feed short-circuit protect and indication

Lithium battery power supply with power display

AVI format video recoding; USB flash disk video recording

H.264 video compression with Ethernet transmission

Full-featured PTZ camera remote control

COFDM demodulation and high receiving sensivitity (single antenna -92dBm, diversity receiving -96dBm)
Specifications:
Power Supply

Working voltage V

AC220V±20V, DC14V~DC16V

Working current A

≤2.5A@ DC15.5V

Video Receiving

Frequency input range

170MHz~860MHz

RF bandwidth

1.25/2.5MHz or 6/7/8MHz

Receiving sensitivity

-96dBm~-20dBm@8M/-106dBm~-20dBm@1.25M

Demodulation

COFDM

Video decoding standard

MPEG-2/MPEG-4

Constellation

QPSK/16QAM @ 1.25/2.5MHz; QPSK/16QAM/64QAM @ 6/7/8MHz

FEC

1/3

,

2/3

@ 1.25/2.5MHz

,

1/2, 2/3, 3/4, 5/6, 7/8

@ 6/7/8MHz

Carrier

2K

GUI

1/8, 1/16

@ 1.25/2.5MHz;

1/4, 1/8, 1/16, 1/32

@ 6/7/8MHz

Video output level

1~1.2Vp-p@75Ω

Video output format

PAL/NTSC

Video white bar amplitude mV

650~720mV

Video synchronous amplitude mV

260~275mV

Video amplitude-frequency characteristic dB

0~4.8MHz

-0.5~1.5

5.5MHz

-4.0~1.5

Rx feed output voltage

DC10V~DC12V

Rx feed output current (MAX)

800mA

Audio output

Left/right channel, stereo

RS232 control interface

Standard RS232 level, 9600, 8, N, 1

RS232 data interface

Standard RS232 level, support 1200~115200

Command

Command air baudrate

600bps~19200bps

Power output

≥32dBm

Keyboard communication protocol

Pelco-P such multiple protocols with baudrate adjustable

Keypress

Rubber button, numeric keypad, camera function keys

Environment




Working temperature

-25°C~55°C

Storage temperature

-40°C~70°C

Appearance

Dimension

460mm×370mm×180

mm

Weight

10.1

kg

Battery weight

1.1kg

Color




Black